ADVERTISING DEPARTMENT
James Briggs - DIRECTOR OF ADVERTISING SALES - (440)994-3249 - jbriggs@starbeacon.com
RETAIL & CLASSIFIED DISPLAY ADVERTISING REPRESENTATIVES
Brian Phelps -  (440)998-2323 x107 - bphelps@starbeacon.com
Shelley Lipps - (440)998-2323 x108 - slipps@starbeacon.com
CLASSIFIED ADVERTISING - Help Wanted, Autos, Homes, Rentals, Garage Sales, Etc.
Joanne Varee - Amy Malasky  (440)994-3240
2020 Rate Card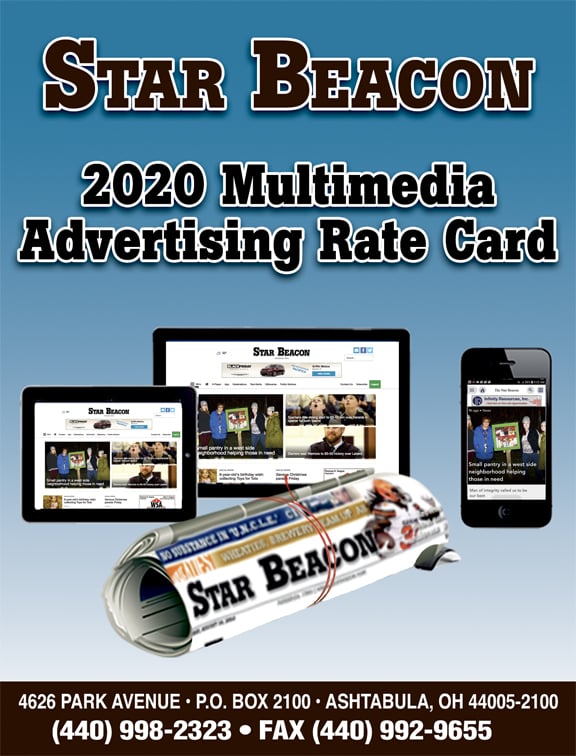 GENEVA [ndash] James "Jim" R. Hildebrand Sr., 67, passed 8/8/2020 at UH Geneva. Born 11/29/1952 in Geneva, Ohio, he was the son of Carl & Charlotte (Butz) Hildebrand. He married Paula Waid 8/14/1993 in Ashtabula. Jim adored his family and enjoyed his 2-seater, convertible sports cars. He…
ORWELL [ndash] Robert F. Jones, 84, died 04/08/2020, born 08/16/1935. Memorial Service, Orwell North Presbyterian Church, Saturday, August 22nd, 10:30 a.m., visitation 9:30 a.m. till time of service. Facial covering is required to attend. Full obituary: painefuneralhome.com
AUSTINBURG TWP. [ndash] Russell McKee, 68, former Jefferson resident, died Monday. Retired CEI employee. US-Navy veteran. Brother of David (Debbie) McKee. No services will be held. The Jefferson Home of Fleming&Billman Funeral Directors and Crematory handling arrangements.