ADVERTISING DEPARTMENT
DIRECTOR OF ADVERTISING SALES -   (440)994-3249 
RETAIL & CLASSIFIED DISPLAY ADVERTISING REPRESENTATIVES
Brian Phelps -  (440)998-2323 x109 - bphelps@starbeacon.com
Shelley Lipps - (440)998-2323 x108 - slipps@starbeacon.com
Bonnie Lampela-  (440)998-2323 x105 - blampela@starbeacon.com
CLASSIFIED ADVERTISING - Help Wanted, Autos, Homes, Rentals, Garage Sales, Etc.
Joanne Varee - Amy Malasky  (440)994-3240
2017 Rate Card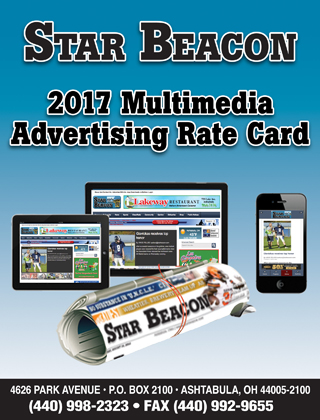 DAYTON [ndash] Marikay Grace Cable passed away June 12, 2019. Beloved daughter to Geneva (Lynn) Orr and Marvin Lee Orr Sr. of Kettering, OH. Donations may be made in Marikay's name to the Humane Society of Dayton.
Lawrence "Larry" Chapman, Jr., age 93 , of Geneva, passed away on June 14, 2019 at Geneva Village. Born on October 23, 1925 in Painesville, the son of Lawrence G. & Marvel (Young) Chapman. A salesman at Amerigas, in Ashtabula. A member of St. John's Lutheran Church in Geneva. Larry enjoy…