ADVERTISING DEPARTMENT
James Briggs - DIRECTOR OF ADVERTISING SALES - (440)994-3249 - jbriggs@starbeacon.com
RETAIL & CLASSIFIED DISPLAY ADVERTISING REPRESENTATIVES
Brian Phelps -  (440)998-2323 x109 - bphelps@starbeacon.com
Shelley Lipps - (440)998-2323 x108 - slipps@starbeacon.com
Bonnie Lampela-  (440)998-2323 x105 - blampela@starbeacon.com
CLASSIFIED ADVERTISING - Help Wanted, Autos, Homes, Rentals, Garage Sales, Etc.
Joanne Varee - Amy Malasky  (440)994-3240
2019 Rate Card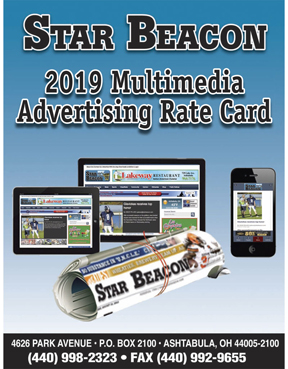 CONNEAUT [ndash] Sandra Seifert, 76, passed away November 8, 2019, at her home. Graveside service Friday, November 11, 2019, at 11:00AM at Evergreen Cemetery, Pierpont. Arrangements entrusted to Thompson-Smith-Nesbitt Funeral Home, Conneaut. Complete obituary at www.thompsonsmithnesbitt.com.
JEFFERSON-Eric Friedrich, 88, Jefferson, died Tuesday at Jefferson Healthcare Center. Lifetime Lenox Twp. & Jefferson resident. Husband to the late Marian (Poling). Father to Gary, Chris, & Linda Butcher. Fleming & Billman FH-Jefferson. Complete obituary at fleming-billman.com.